Opportunity Quilt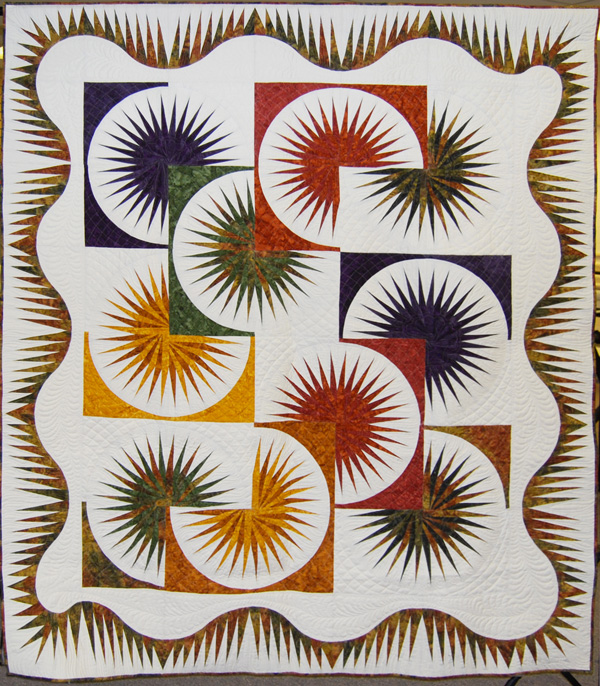 Japanese Fan
Made and Custom Quilted by Sandy Bernasek
Winner of the First Place Ribbon in the "Bed Quilt, Pieced, Machine Quilted" Category
Pattern by Quiltworx
Tickets are $1.00 each

Quilt Numbers
If you entered a quilt(s) in the show, each quilt is assigned a number that must be placed on your quilt label before turn-in. Lay the quilt in front of you. Put the top of the quilt away from you. Bottom of the quilt closest to you. Pick up the bottom right hand corner of the quilt. Here's where your label goes!
Quilt Numbers PDF
Quilt Turn-in
Quilt turn in is June 8-10, at the following locations and times.
Location/Address
Phone
Thursday Hours
Friday Hours
Saturday Hours
A Quilting Place
11019 I Street
Omaha, NE 68137
402-884-2096
1 pm – 5:30 pm
10 am – 3 pm
10 am – 3 pm
Bella Fiore
7310 Harrison St
Ralston, NE 68128
402-592-6100
10 am – 3 pm
10 am – 3 pm
10 am – 3 pm
Country Sampler
11928 W Center Rd
Omaha NE 68144
402-333-6131
11 am – 4 pm
11 am – 4 pm
11 am – 4 pm
Janelle Reed
19509 Audrey St
Gretna, NE
402-614-0923
Available all day,
call to schedule
Available all day,
call to schedule
Available all day,
call to schedule
Challenge Quilts
2017 Quilt Show Challenge "Timeless Nebraska"
Depict your favorite Nebraska view or landscape using any technique.  For example you might depict the wide open prairie, the might Missouri, a crane feeding, the Sower on the capitol building, the Omaha skyline, etc.
Techniques include, but are not limited to piecing,  appliqué, paint, thread work, dye and other media.
Size must be either 12″ long by 18″ wide (a landscape orientation) or 18″ long by 12″ wide (a portrait orientation.)
Item must meet quilt definition of "a creative visual work, layered and stitched."
Quilt must be accompanied by a written artist statement describing the quilt and the landscape or view, the techniques used, and why it is your timeless Nebraska.For any questions, please contact Debo Hysack at deb54ne@hotmail.com or 402-669-7742.
Vendor Mall
Chaired by Tammy Magill
Apply to be a Vendor at our Show
Vendor Application Online
I am pleased to announce we have the following vendors confirmed for the show at this time.
Acme Fabric & Quilt Co., Blair, NE
Bernina Omaha, Omaha, NE
Blommin' Minds, Council Bluffs, IA
Blueberry Backroads, Minneapolis, MN
Calico Cottage, Hastings, NE
Citifolk Creations, Bellevue, NE
Claus'en Paus, Columbus, NE
Cozy Quarters, Greenville, WI
Cut Up & Quilt, Council Bluffs, IA
Country Traditions, Fremont, NE
Farmland Quilting & Embroidery, LLC, Smithboro, IL
Four Seasons Quilting, Corydon, IA
Hawaiian Moon, Clearwater, FL
Knots of Bows, Bellevue, NE
LuLaRoe, Council Bluffs, IA
Mangelsen's, Omaha, NE
Martelli Enterprises, Pensacola, FL
Nolting Mfg, Hiawatha, IA
Overbrook Quilt Connection, Overbrook, KS
Piecemakers Quilt Shop, Hackensack, MN
Prarie Woolens, Paullina, IA
Quilter's Paradise, Mt. Pleasant, IA
Show-Me Quilting, Raytown, Mo
Stitchin' Tree, Woodbine, IA
Sweetwater Cotton Shoppe, Paynesville, MN
Tanzanian Treasures Fabric & More, Omaha, NE
The Quilted Sunflower, Spring Hill, KS
Vintage Textiles, Sioux Falls, SD
108″ Quilt Backings, Maple Grove, MN
Volunteer Sign Up
Here's how it works in 3 easy steps:
1) Click this link to see our SignUp on SignUp.com: http://signup.com/go/rznKew
2) Review the options listed and choose the spot(s) you like.
3) Sign up! It's Easy – you will NOT need to register an account or keep a password on SignUp.com.
Note: SignUp.com does not share your email address with anyone.
Give it go! Thank you!
– Jan Koch
Our quilt show is a great show and that is because of you, our volunteers!
Volunteer Opportunities and Descriptions
| | |
| --- | --- |
| White Glove | Wear white gloves and help with security during the show. You will walk around and offer to show people the back of quilts and ask them not to touch the quilts. This person may also assist with Vendor Support as needed.(standing/walking position) |
| Vendor Support | This person will be assigned to take reats to vendors or to watch a booth so that a vendor may have a quick break. This person may also assist with White Glove helper as needed. (standing/walking position) |
| Volunteer Check In Table | Assists with show support of volunteers. As volunteers come in for their shifts, help them get their white gloves, direct to area they are supposed to help in. (seated position) |
| Set Up | Assist with the set up of the quilt frames, hanging quilts and getting the show ready to go. (lifting up to 25 pounds, standing/walking position) |
| Ticket Taker | Stand at the doorway and check wrist bands for entry into the hall. (standing position) |
| Photographer's Assistant | Assist the Photographer on her time schedule to capture the quilts on digital media (standing/walking position) |
| Admissions Table | Two people will collect money and one person to welcome guests and vendors (seated position) |
| Raffle Quilt | Sell Raffle Tickets (seated position) |
| Show CD Seller | Take orders for a CD's of the quilt show – (seated position) |
| Auction Support | Assist show visitors with auction items, entering bids, getting bid numbers (standing/seated position) |
| All Day Volunteer | Assist the show chairperson(s) as needed. Duties will vary as assigned. (standing/walking/seated position) |
| Take Down | Catchers/folders of the quilts, frames take down, storage, quilt organizers/security after takedown. (lifting up to 25 pounds, standing/walking position) |
Quilt Show Judge Information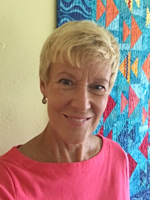 Karen Roberts of Sanibel, Florida began quilting in 1993 following many years of garment sewing and needle arts. After competing in numerous quilt shows, she became interested in judging. Following completion of the NQA (National Quilting Association) Judges Short Course and the rigorous judge's candidacy program, she received her NQA Judges Certificate in 2007. In 2009 she obtained certification as a Master Quilt Judge.
Karen has earned many ribbons and awards in regional, state, and national competitions. Her work has been exhibited at the NQA Show in Columbus, OH; AQS shows in Paducah, KY and Nashville, TN; Quilt Expo in Madison, WI; Pacific West Quilt Show in Tacoma, WA; and various regional shows in Wisconsin, Illinois and Florida.
While employed in two quilt shops, she taught classes, designed patterns, and created an original pattern for McCall's Fast Quilts magazine.
Her role as a judge is to encourage and motivate quilters, helping them to gain confidence and improve their quiltmaking skills. Each entry is evaluated objectively and fairly, recognizing the creativity and workmanship in each piece, while providing helpful and constructive critiques.

Quilt Appraisals
Professional appraiser, Jennifer Perkins, will be available at the show for your quilt appraisal needs. Cost is $50 per item. Please download and complete the pdf form below to request an appraisal ahead of the show. Jennifer will contact you to arrange your time slot.
Quilt Appraisal Form