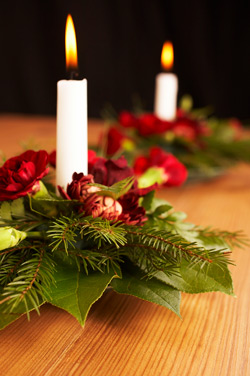 It's time to gather your friends and reserve a table for our annual Holiday Dinner on Tuesday, December 12, 2017.  The dinner is at the German American Society and you may arrive as early as 5:00 p.m.  Dinner will be served at 6:30 p.m.  Each ticket is $25 for the dinner.  We had to increase our ticket price as we have not had a price increase for at least four years and the cost of the dinner and venue have continued to rise.  There are many activities happening during the evening such as Santa's Workshop where you can put tickets in to win prizes.  We also collect Angel Bags that members and friends have filled with gifts for children.  The evening ends with a live auction of items that are made by individuals and/or groups that follow a theme.  This year's theme is leaves.  We always have a fun evening and we hope that you will join us.
Tickets will be available at the October and November Guild meetings.  Carol McCann will be selling tickets after 6:00 p.m. at the October Guild meeting.  Angella Arndt will be selling tickets after 6:00 p.m. at the November Guild meeting.
We look forward to seeing you for a fun evening!
– Angella Arndt