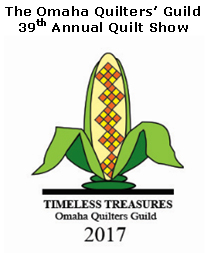 The last day to enter quilts is April 14, 2017!!
Don't miss it!!  Entries are open to all OQG members for the 2016-2017 season.
Please read "Quilt Show Entry Instructions" before registering your quilts.
Enter Quilts Online
Or download the pdf to print and fill out by hand.
Quilt Turn-in
Quilt turn in is June 8-10, at the following locations and times.
Location/Address
Phone
Thursday Hours
Friday Hours
Saturday Hours
A Quilting Place
11019 I Street
Omaha, NE 68137
402-884-2096
1 pm – 5:30 pm
10 am – 3 pm
10 am – 3 pm
Bella Fiore
7310 Harrison St
Ralston, NE 68128
402-592-6100
10 am – 3 pm
10 am – 3 pm
10 am – 3 pm
Country Sampler
11928 W Center Rd
Omaha NE 68144
402-333-6131
11 am – 4 pm
11 am – 4 pm
11 am – 4 pm
Janelle Reed
19509 Audrey St
Gretna, NE
402-614-0923
Available all day,
call to schedule
Available all day,
call to schedule
Available all day,
call to schedule